If you would like to view a larger picture of any patch just click on the one you want.
This is a hand made patch, made by Lt. Altman for his Troop in 1967 while in Vietnam. It is not known where Lt. Altman got his original design from. It may be connected to Fort Knox.
This patch is one worn by some 3rd/5th Cavalry troopers in Vietnam. Other versions were made later on, around 1970, that used the knight in armor on the dressed up horse, with lance and banner with snake instead of the rake-like image.



This patch was designed, created and copyrighted by past president Ron Quezada and at one time was considered the official patch of the 3rd Squadron, 5th U.S. Cavalry Veterans (Association). That designation is currently under contention with many members desiring the patch below instead.
This patch was created by Bob Crawford when he returned from Vietnam. Obviously, it is an excellent rendition and graphical copy of the patch at the top of this page as well as the patch made by Lt.. Altman in 1967.
Photos of the unit Patch on the Uniform and the Helmet of Terry Johnstone wore in Vietnam.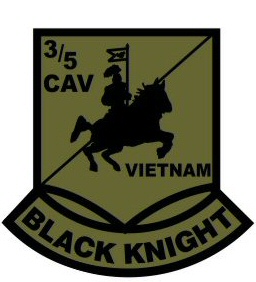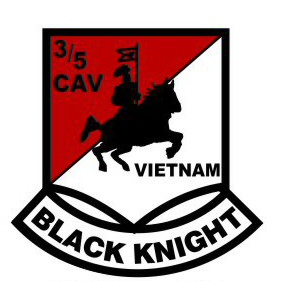 Above are other patches worn by the Black Knights 3/5 CAV
If you have pictures of the unit patch we will be happy to post them here.
EditRegion7